Chair Massage (in our office): 15 minutes - $25; 30 minutes - $45
Massage in the workplace has been proven to reduce stress as well as boost employee morale. A stiff neck, achy wrists and knotted up shoulders are all very common workplace complaints. Most office related symptoms can be attributed to a loss of circulation. Chair massage counters the circulatory problems inherent in office work.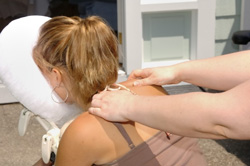 Tight muscles caused by stress and sitting behind a desk all day lead to mental fogginess, decreased energy and the susceptibility to repetitive stress injuries, such as carpal tunnel syndrome. Sitting in the massage chair opens up the back muscles, relieves strain on the neck and provides a gentle respite for the eyes which are usually glued to a computer monitor. Imagine the increase in productivity and employee morale a chair massage can provide.
No matter how large or how small your business is, chair massage can benefit your company. Because chair massage is so unobtrusive, it will not interfere with your day-to-day business. Only a small, semi-private area is needed to set up. Chair massage is done with the recipient fully clothed, with the average session lasting approximately 15 minutes.
Chair massage is most often used as a quarterly or monthly morale and productivity booster. It can be a reward for major accomplishments or simply as a gift to employees, clients or vendors.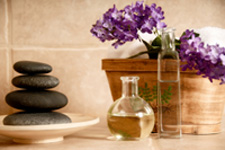 Some of the benefits of workplace chair massage...
Improved morale
Increased productivity
Decreased workplace stress
Decreased stress-related absenteeism
Perfect for Corporate Events, Health Fairs, Sporting Events, Employee Appreciation Events!
Call Body Wellness today to schedule your on-site chair massage! (2 hour minimum)